Hi,
I'm in the midst of my annual tour of Europe to investigate global trends / economies. So far, things look healthy. France was bustling. Despite the anxieties expressed by many people there, there's a general satisfaction and optimism surrounding the election results.
I've moved on to the island nation of Cape Verde to investigate the real estate opportunities there (and to update the progress there since my last visit, some 20 years ago). As was the case in the 1990s, I find that the country has great potential. However, infrastructure is still lacking and I still don't see a logical strategy for unlocking its value. Overall, it was disheartening to see how little progress has been made over a two decade span.
Government decision-making may be to blame. For example, the state-owned airline, TACV, is one of the two main conduits to Cape Verde. It is currently in the midst of restructuring toward privatization and I must say that restructuring is in order. The overwhelming consensus is that the company is a mess to the point of giving the country a bad reputation with foreigners (which likely represent the future of Cape Verde's growth prospects).
In addition to this, poor decisions regarding zoning, real estate, alliances, and tourism may impact the timeframe for the country's growth. As one example, docking fees for cruise ships were hiked, leading cruise lines to eliminate Mindelo (on the island of São Vicente) as one of its ports-of-call. This move not only cut a source of revenue, but also a primary way that foreigners were being introduced to the country.
I know that's a lot of detail regarding a country of 600,000 people. However, it's illustrative of the challenges that face Africa. As the world seeks new sources of economic growth, the continent holds much promise. However, issues such as those I've described above are endemic.
So, while GDP growth is strong in many areas of Africa, their working off of a small base and unlikely to move the global needle anytime soon. Rather, it's more likely that Africa will continue to suffer from corrupt leadership and economic alliances that heavily favor savvy foreigners. That will not stimulate growth for the people of Africa, which is where much of this region's potential lies.
OK, on with the show…
1% Portfolio Still Ripping
After days off the grid, it was nice to see that the 1% Portfolio is still on a tear. My 2017 picks (12, so far) are up an average of 17%, which is about 120% annualized, based on the average holding period of 73 days.
Timing has been a key success factor. With the market in dangerous valuation territory, I've been focusing on turnaround and transition stories, like Marin Software (MRIN), Mattersight (MATR), and Radisys (RSYS). Those tend to possess "Wait Time" designations, which tend to be money losers until inflection points are achieved.
However, at certain valuation levels, it pays to accept losses. From low-enough levels, the potential reward becomes multi-bagger in nature. Simultaneously, M&A becomes a distinct possibility. I believe that to be the case for these picks.
Of the three I just mentioned, RSYS is likely closest to an inflection point (upgraded Intel processors and swelling demand for SDN/NFV solutions promise to uncork accelerated growth as we enter the back half of this year).
That's not to dismiss MRIN or MATR. See below for details.
The portfolio has also benefited from being very selective about short sales. For example, I took a lot of heat for shorting PXLW, but that call was backed by years of knowledge of the company and its recent actions. We made a very quick 16% profit, but the stock has continued to fall, adding validation to the original decision to short it.
New Pick
Effective immediately, USA Technologies (USAT) has been added to the 1% Portfolio. I won't get into details here, but you find out why I like the stock by checking out its videos on YouTube, reading its most recent transcript, and most recent articles on Seeking Alpha.
Marin Makes It Official
Yesterday, Marin Software (MRIN) officially named Brad Kinnish to the role of CFO. Most notably, Mr. Kinnish comes from the investment banking industry, which should spark speculation that MRIN might be poised to sell itself once its new product gets rolling.
That day is quickly approaching and the company maintains 39 open reqs, representing about 10% of its current workforce. That's a very healthy amount of hiring. At just over $1 per share, I believe that MRIN presents a very attractive, albeit risky, balance of risk and reward.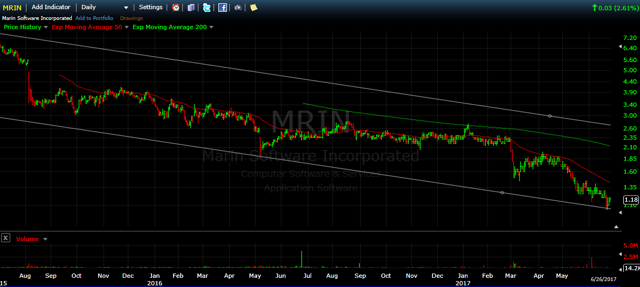 Here's the announcement…
San Francisco, CA (June 26, 2017) – Marin Software Incorporated (NYSE: MRIN), a leading provider of cross-channel, cross-device, enterprise marketing software for advertisers and agencies, today announced that Brad Kinnish has been appointed Chief Financial Officer effective June 26. Mr. Kinnish has served as Marin's Acting Chief Financial Officer since March of this year.
Chris Lien, CEO of Marin Software, said, "Along with an already impressive track record working with SaaS companies, Brad's financial and operating expertise has quickly become an invaluable asset to the team. I'm honored to welcome him in his new role."
"Marin Software continues to develop compelling cross-channel solutions for advertisers and agencies," said Mr. Kinnish. "I'm thrilled to join as Chief Financial Officer, and to be part of the company's goal of returning to growth."
Prior to Marin, Mr. Kinnish spent seven years at Deutsche Bank, where he served as Managing Director in the Technology Investment Banking group. Previously, he was at Thomas Weisel Partners for four years, in the role of Director of Software Investment Banking. Mr. Kinnish was an Associate in the Technology Investment Banking group at Credit Suisse, and started his career at Ernst & Young as a CPA (currently inactive). He received his bachelor's degree from University of Washington.
Mattersight Awarded Seventh Patent Of 2017
The patents keep rollingin for Mattersight. See the screenshot below for the latest. The company has been very consistent in amassing its patent portfolio. Let's see if they can start achieving similar stabilty in their financial results.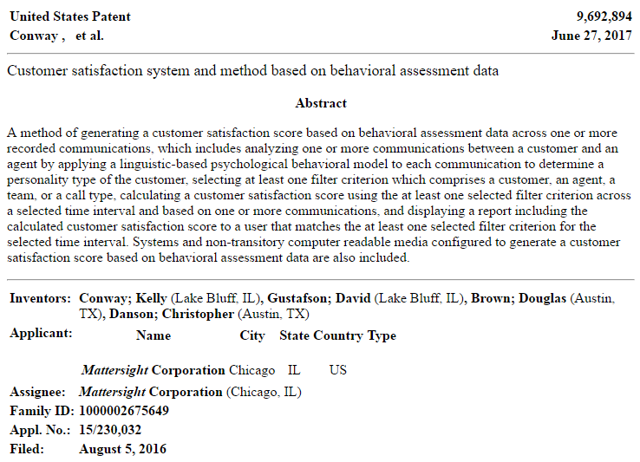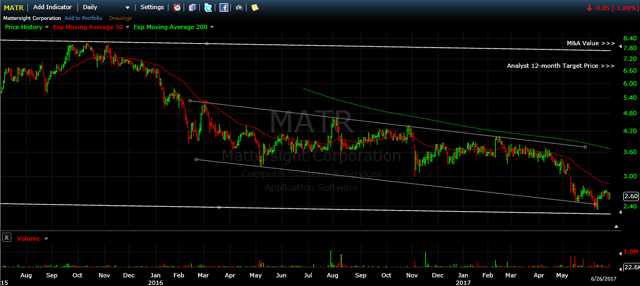 Final Note
A recent CFO survey showed pervasive evidence of curtailed spending until we gain clarity regarding Trump's desire to enable accelerated write-offs for capital equipment. Yesterday's data on durable goods orders validated that data. Until we get clarity, it may be wise to avoid (or short) capital equipment stocks.
https://www.usnews.com/news/business/articles/2017-06-26/us-durable-goods-orders-fell-in-may-by-the-most-in-18-months
---
The information in this article is for informational and illustrative purposes only and should not be regarded as investment advice or as a recommendation regarding any particular security or course of action. The opinions expressed in Pipeline Data, LLC publications are the opinions of Mr. Gomes as of the date of publication, and are subject to change without notice and may not be updated.
All investments carry the risk of loss and the investment strategies discussed by Mr. Gomes entail a high level of risk. Any person considering an investment should perform their own research and consult with an investment professional. Additional important disclosures can be found in the Important Disclosures section at PipelineDataLLC.com.