With President Trump's desire to lower corporate taxes and America-first agenda, one would think that small caps would be benefiting the most. After all, smaller companies actually (and ironically) pay higher taxes. They are also more insulated from trade wars (because they don't do as much business overseas) and better positioned to benefit from an increase in U.S. economic activity.
Despite this, the Russell 2000 is only up about 4% since I initiated my latest Yellow Alert (in late November). The iShares Russell 2000 ETF (NYSEARCA:IWM) chart illustrates this below. In contrast, the S&P 500 (NYSEARCA:SPY) and Dow Jones Industrial Average (NYSEARCA:DIA) are up something closer to 10%.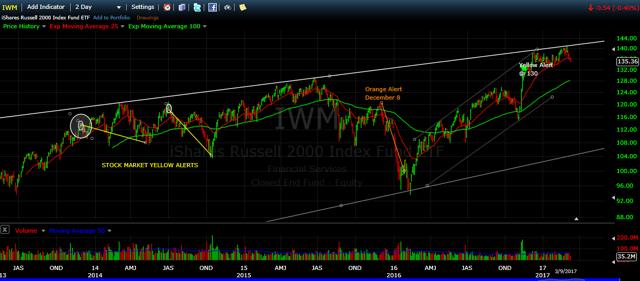 Source: PipelineDataLLC.com and FreeStockCharts.com
It makes no sense… until you realize two things:
1. New and existing mom-and-pop money is favoring stocks over bonds. Interest rates are rising and that puts pressure on bonds. Mom and pops don't know which stocks to buy, so they just buy passive mutual funds or ETFs. S&P funds and SPY (an ETF) are arguably the most popular. The huge flow of funds has been concentrated there, regardless of valuation.
2. The pending capital gains tax changes are causing distortions in the market. At the end of each year, many investors sell their losers to offset gains on their winners. This year, with a capital gains tax cut anticipated, investors are holding on to their winners (so they can pay the lower rate later) and continuing to sell their losers (to offset any gains they might have booked).
As a result, stocks that have been falling over the last few quarters continue to fall while winning stocks are enjoying a period of insulation from selling pressure.
This should reverse when the tax changes become effective. This should come as no surprise. Here's why…
Investors have been led to believe that the Ronald Reagan era instantly catalyzed a massive bull market. The facts show that this is not true. In fact, the market had a short-lived rally when Reagan was elected in November 1980 (just as it did for Donald Trump in 2016) and made new 52-week highs in March 1981 (just as it did for Donald Trump this year).
However, in 1981, once the capital gains tax initiative was introduced into Congress (which hasn't happened yet in 2017), the market immediately launched into a tailspin, losing 22% percent before the end of September. The correction continued until August of the following year: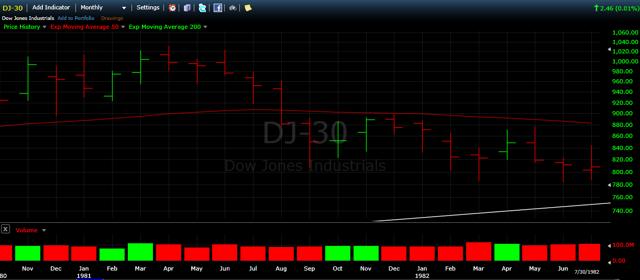 The reason this happened when the initiatives were introduced into Congress (and not when the cuts were actually enacted) is that capital gains cuts are almost always made retroactive to the introduction date.
Just one more reason to be wary at the current levels. After this week's weak action, we could certainly get a bounce here, but my risk/reward charts are still on alert. So, be careful. Pretty soon, the broader market may give way to selling pressure. Meanwhile, beaten up stocks may finally get a reprieve and rebound from their low levels.
For some of my picks to bounce, be sure to visit my Instablog and/or PipelineDataLLC.com.
---
The information in this article is for informational and illustrative purposes only and should not be regarded as investment advice or as a recommendation regarding any particular security or course of action. The opinions expressed in Pipeline Data, LLC publications are the opinions of Mr. Gomes as of the date of publication, and are subject to change without notice and may not be updated.
All investments carry the risk of loss and the investment strategies discussed by Mr. Gomes entail a high level of risk. Any person considering an investment should perform their own research and consult with an investment professional. Additional important disclosures can be found in the Important Disclosures section at PipelineDataLLC.com.