Charts Topping Out
While investor sentiment reaches relatively extreme levels (which is traditionally bearish), the indexes are all within one percentage point of hitting the top of my Risk/Reward channels: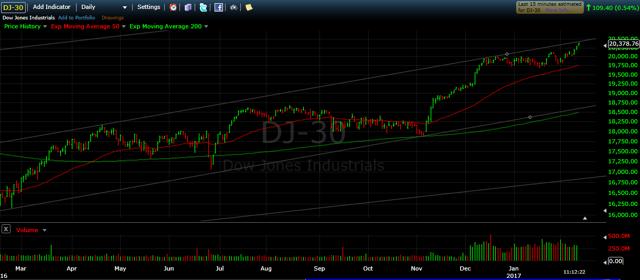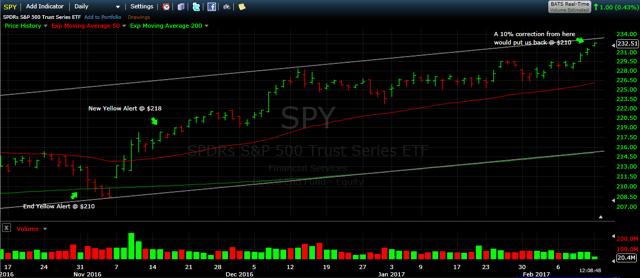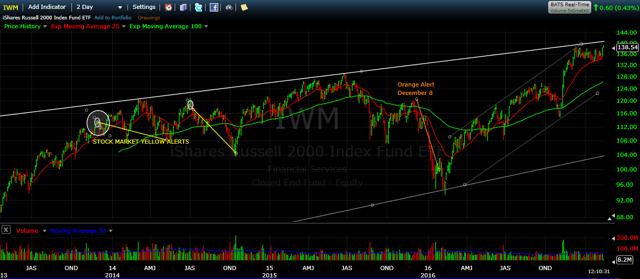 I've been cautious for a couple months, which hasn't seemed like the right thing to do. However, I know two things: 1) being cautious doesn't always pay off, but 2) nobody loses big chunks of their money being cautious. I remain cautious and continue to believe that we'll get a chance to buy stocks for a lower price than we saw when I issued my Yellow Alert.
My prior four Alerts were right, so I'll accept a loss if it comes. Time will tell…
Mattersight Comes Through: Post-Script
Last week, Mattersight (NASDAQ:MATR) announced Q4 results. I wrote it up in my Instablog last week. They beat on the top and bottom line for the second straight quarter (after four straight misses). However, they greatly lowered expectations for 2017. You would think the stock would drop. Instead, it took off.
The reasons are simple. First, they met/beat their numbers for the second straight quarter (after missing the prior four in a row). It shows that they have some momentum and/or have started to issue consistently-achievable guidance.
The latter cannot be under estimated. During my days at AMR (1998-2004), I advised many companies on this subject. In short, a company that says they'll grow 30%, but grows 27% will get a lower valuation than an identical company that says they will grow 20% and grows 23%.
Of course, all else being equal, the company that grows 27% should be worth upwards of 20% more than the one growing 23%. However, that's the power of reliability and showing investors that you have a good handle on your business / sales pipeline.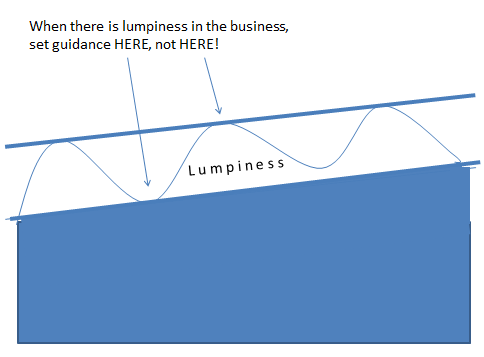 The chart is in an interesting spot. It's just below the 200 day moving average (DMA), which has served as resistance. However, it is also well below my estimate of fair and M&A value. What to do about it depends on your personal philosophy. A person can buy (looking ahead), sell (taking a short-term gamble), or hold (chillin').
One choice will surely outperform the others, but I don't think there's a "wrong" choice here.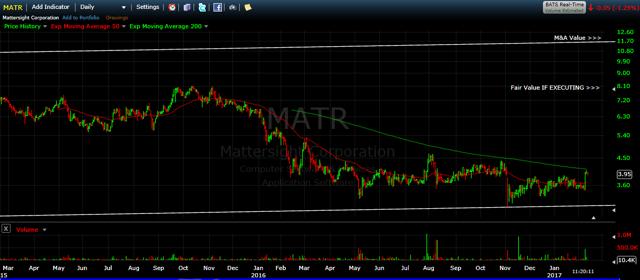 ---
The information in this article is for informational and illustrative purposes only and should not be regarded as investment advice or as a recommendation regarding any particular security or course of action. The opinions expressed in Pipeline Data, LLC publications are the opinions of Mr. Gomes as of the date of publication, and are subject to change without notice and may not be updated.
All investments carry the risk of loss and the investment strategies discussed by Mr. Gomes entail a high level of risk. Any person considering an investment should perform their own research and consult with an investment professional. Additional important disclosures can be found in the Important Disclosures section at PipelineDataLLC.com.