The 1% Portfolio continues to perform well. My 2017 picks are up an average of 15%. I expect to add one or two new picks very soon, so keep your eyes peeled!
Here's the latest on the stocks I've been tracking…
Orange Announcement — Green Light for RADCOM (NASDAQ:RDCM)?
Orange (NYSE:ORAN) has boosted its guidance on capital expenditures for 2017. It's now planning €7.2B (about $8.1B) in capex for this year, up from a previously forecast €7.1B. The company sees spending peaking in 2018 or 2019 as it ramps up for 5G.
This ramp could be beneficial for RADCOM because Orange is believed to be one of RDCM's accelerated-trial customers.
Stocks Getting Into (Or Kicked Out Of) The Russell 2000…
It's that time of the year again. This month, many companies are going to get added or subtracted from the Russell 2000. The preliminary list additions and subtractions will be announced next Friday. That announcement could have a material impact on the companies that get in… as well as the ones that get kicked out.
I've noticed that several companies are near the expected threshold to get into the Russell, like Celsius (OTCQX:CELH) and Ominto (OTCPK:OMNT). We'll have to wait for Russell's official announcement to determine their fate.
For others, the threshold seems pretty clear. On the basis of market cap alone, RADCOM now qualifies to get into the Russell. Meanwhile, some companies I've been watching – like Radisys (NASDAQ:RSYS) and Marchex (NASDAQ:MCHX) – have clearly fallen below the required level.
The final list will be announced June 16. The actual changes will be made after the market closes on June 23. Stay tuned for my analysis as events warrant.
Silver Spring Networks Wins Big Data & Internet of Things (NYSEMKT:IOT) Award
On Tuesday, Silver Spring Networks announced that it had won the "Outstanding Big Data & Internet of Things Solution Provider of the Year" award for deploying a "powerful, reliable and standards-based IoT platform and solutions" for the UK Smart City programs.
The stock is starting to get off of the mat, which is among the reasons why I bought more shares in my personal account and added it to 1% Portfolio.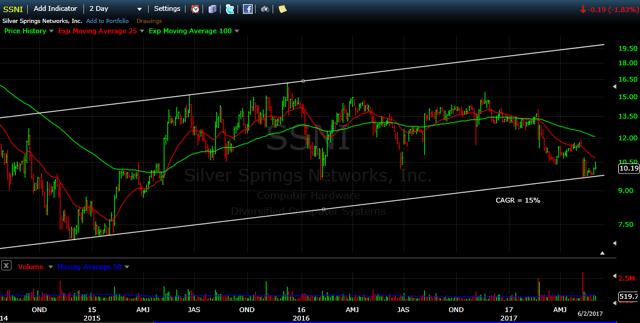 ---
The information in this article is for informational and illustrative purposes only and should not be regarded as investment advice or as a recommendation regarding any particular security or course of action. The opinions expressed in Pipeline Data, LLC publications are the opinions of Mr. Gomes as of the date of publication, and are subject to change without notice and may not be updated.
All investments carry the risk of loss and the investment strategies discussed by Mr. Gomes entail a high level of risk. Any person considering an investment should perform their own research and consult with an investment professional. Additional important disclosures can be found in the Important Disclosures section at PipelineDataLLC.com.